SIMS VR Mining experience
These two different virtual mines are two fun, safe, easy and educational way to visit the future of mining.
1. In the "SIMS VR Experience" You will arrive at the mine center above ground, taking a tour to the control room and eventually down into the mine. You will visit some of the sections that makes up the main production process that is taking place under ground, watching several machines and vehicles in process using modern batteries and production methods.
2. In the "SIMS VR Gamification Experience", your goal is in a fun way to keep the production running in the mine. The target group for this experience is mainly children and younger teenagers.
The environment and machines has been created by artists in Unreal Engine. Using a midrange to high-end PC, you can start the experience either on Oculus Rift S, HTC Vive, Or just run with your Keyboard and mouse.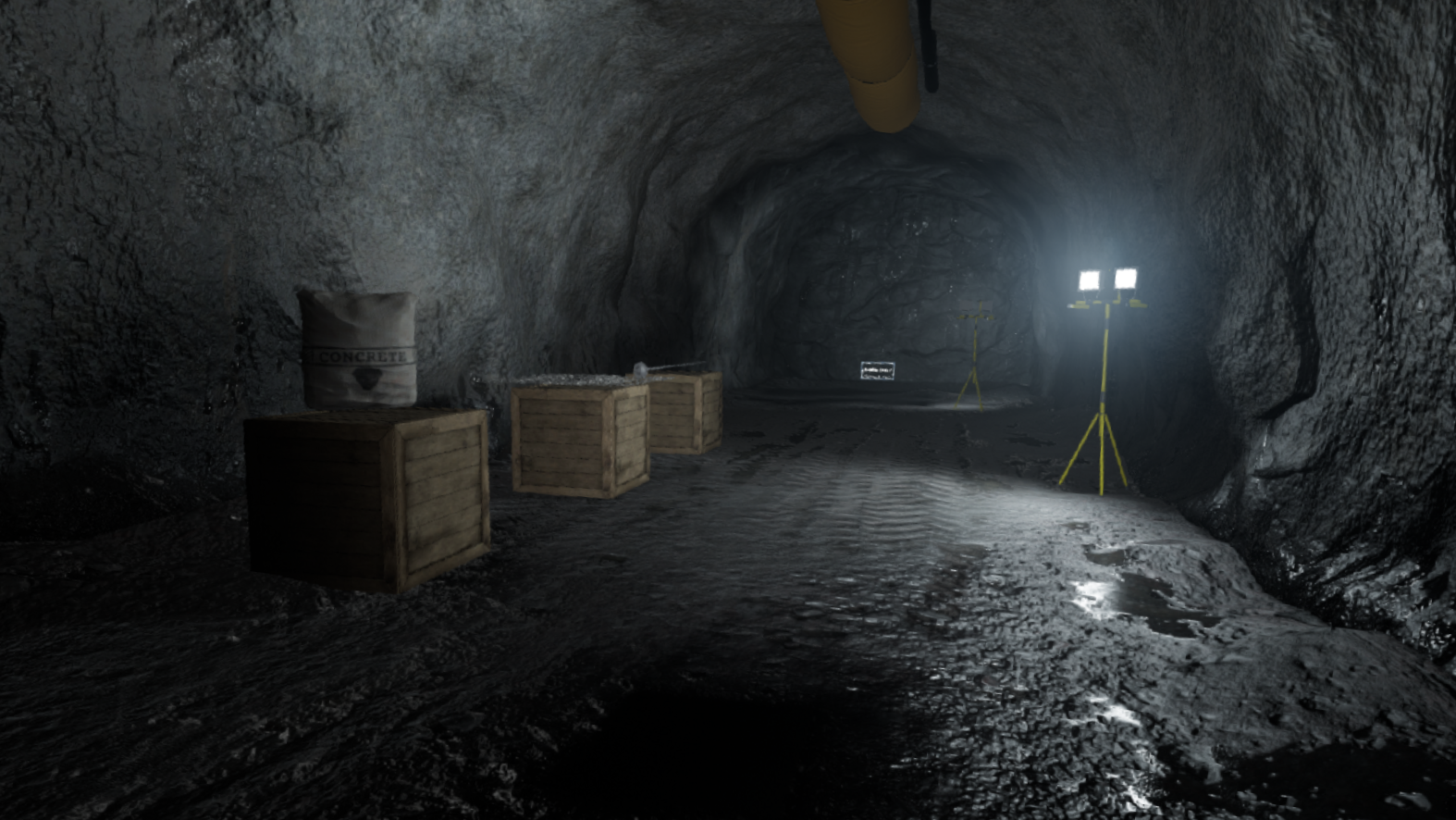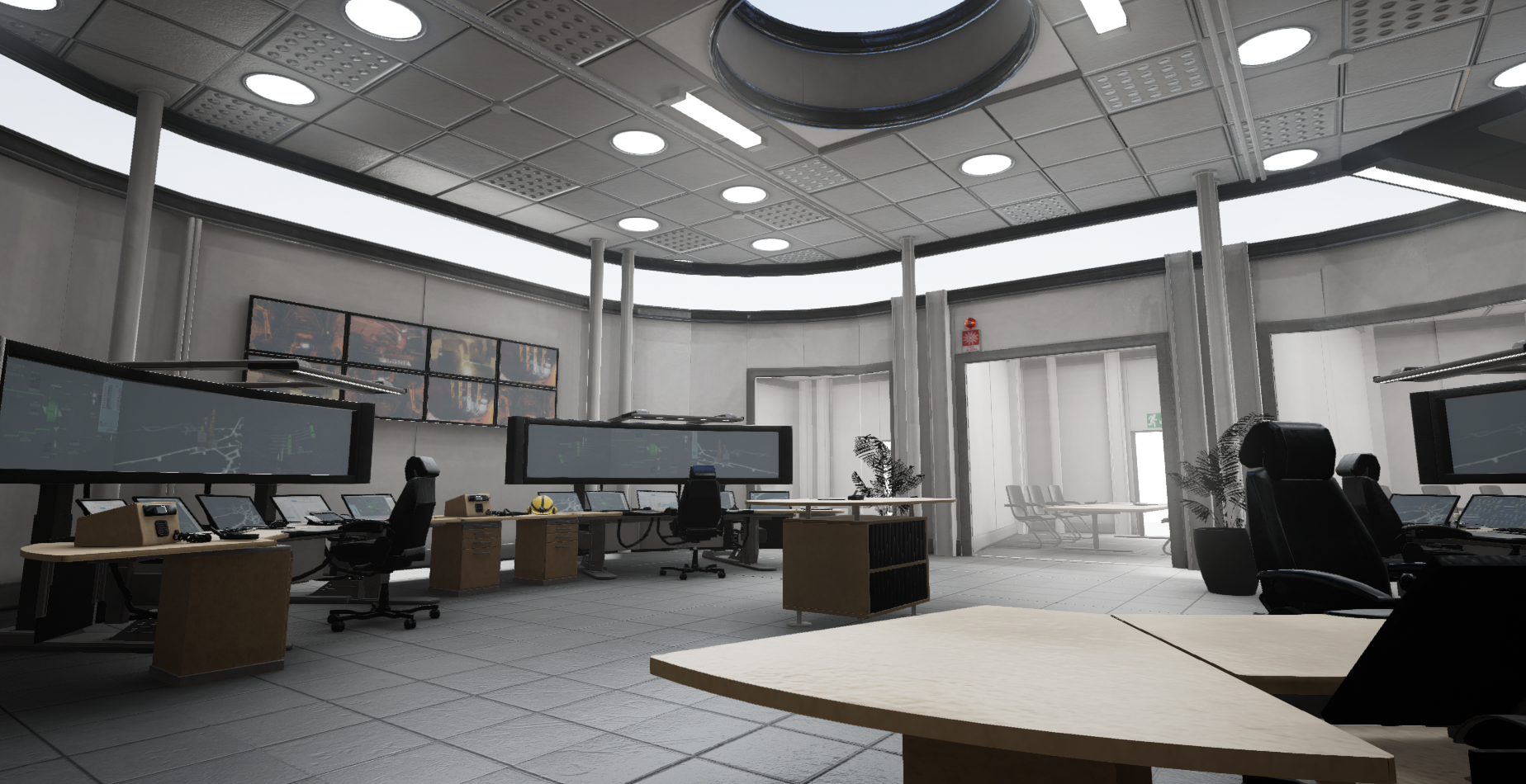 FREEWARE LICENSE TERMS
This website contains certain downloadable software that does not require payment of any license fee. This Freeware License is a binding legal agreement between the individual who downloads the software ("You") and the Licensor.
THIS SOFTWARE IS COPYRIGHTED AND THE OWNER OF THE COPYRIGHT CLAIMS ALL EXCLUSIVE RIGHTS TO SUCH SOFTWARE, EXCEPT AS LICENSED TO USERS HEREUNDER AND SUBJECT TO STRICT COMPLIANCE WITH THE TERMS OF THIS FREEWARE LICENSE.
Even though a license fee is not paid for use of such Freeware, it does not mean that there are not conditions for using such Freeware. As a condition for granting you a license to use Freeware programs that are available through this site, you agree to all of the following terms and conditions. You are deemed to have read, understood and accepted all such terms and conditions upon executing a download of any Freeware program.
If you fail to abide by any of the terms and conditions set forth herein, your license to use such Freeware shall be immediately and automatically revoked, without any notice or other action by the Copyright Owner.
TERMS AND CONDITIONS
You are granted a non-exclusive license to use the Downloaded Software subject to your compliance with all of the terms and conditions of this Freeware License.
You may only use the software on a single computer that you own, lease or control. You may make one backup copy of the software for your own use to replace the primary copy in the event of hard drive failure or other unavailability of the primary copy. The backup copy shall retain all copyright notices.
You are only granted a license for the machine-readable, object code portion of the software You will not modify, enhance, reverse engineer or otherwise alter the software from its current state.
You may not use the software for multiple users or on a local area network without written consent from the Licensor.
You may not distribute, copy, publish, assign, sell, bargain, convey, transfer, pledge, lease or grant any further rights to use the software.
You will not have any proprietary rights in and to the software. You acknowledge and agree that the Licensor retains all copyrights and other proprietary rights in and to the software.
Your license to use the software shall be revocable by the Licensor upon written notice to you. This license shall automatically terminate upon your violation of the terms hereof or upon your use of the software beyond the scope of the license provided herein.
Use within the scope of this license is free of charge and no royalty or licensing fees shall be payable by you. Use beyond the scope of this license shall constitute copyright infringement.
This application is downloaded as is. No support is included.
Your email and name will only be used to register the download and send application updates.
Svenska Science centers, se hit! 
Erbjudande – att fritt nyttja LTU´s världsunika underjordsmiljöer i VR med barn och ungdomar som primär målgrupp
Bakgrund
Inom ramen för det 36 månader långa SIMS-projektet www.simsmining.eu som avslutades 30/4 2020 så producerades två världsunika underjordiska gruvmiljöer i VR. Dessa togs fram med avsikt att ge barn och ungdomar samt övrig allmänhet en upplevelse av hur det är att befinna sig i en modern underjordsgruva. En av miljöerna används även vid undervisning av studenter på Luleå tekniska universitet (LTU) samt planeras att användas vid introduktionsutbildningar på svenska gruvbolag.
Här bredvid ett par "Screen shots" från gruvmiljöerna. Ta gärna del av denna "walk through-film" genom delar av den gruvmiljö som vi främst tror lämpar sig då pedagog har möjlighet att delta.
Under projektets gång har kontinuerlig dialog pågått mellan oss som tagit fram VR-miljöerna och pedagoger på Teknikens Hus i Luleå samt Tekniska Museet i Stockholm för att med deras erfarenhet och input anpassa miljöerna på ett sätt som på bästa sätt ska kunna nyttjas med eller utan pedagog på ett Science Center (SC).  Pilottester med skolklasser är även utförda vid ett flertal tillfällen för att få nödvändig input.
Bild tv; David på Teknikens hus arbetar med att färdigställa deras yta för VR-miljön Bild th; Baksidan av montern vid Tekniska Museet där övriga gäster kan följa vad som sker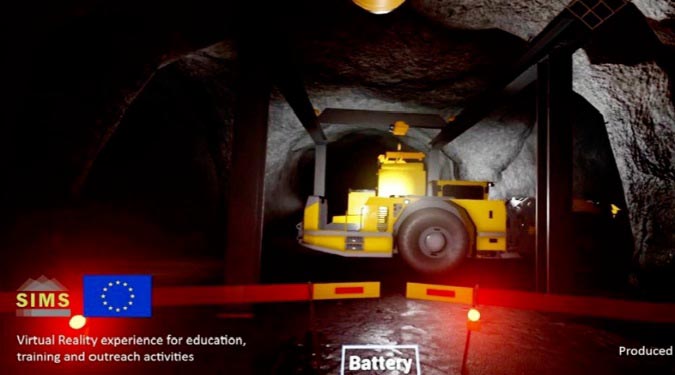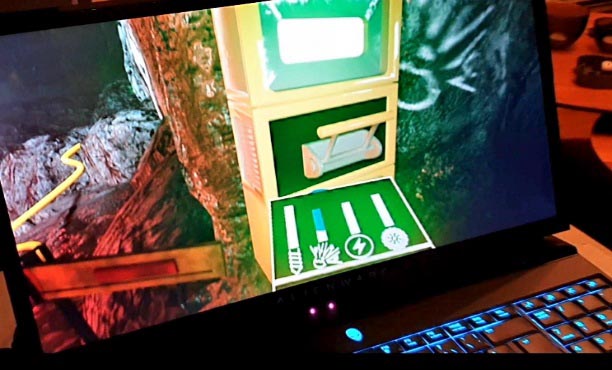 Vi känner oss mycket glada över att få möjlighet att nyttja dessa VR-miljöer som ett modernt och innovativt komplement till våra övriga utställningar
Vi håller just nu på att färdigställa vår gruvliknande miljö vilket känns spännande och jätteroligt.
Dessa VR-miljöer känns som ett väldigt bra tillägg i vår befintliga gruvutställning och vi ser fram emot att efter Corona kunna fortsätta att utveckla vårt arbete med dem.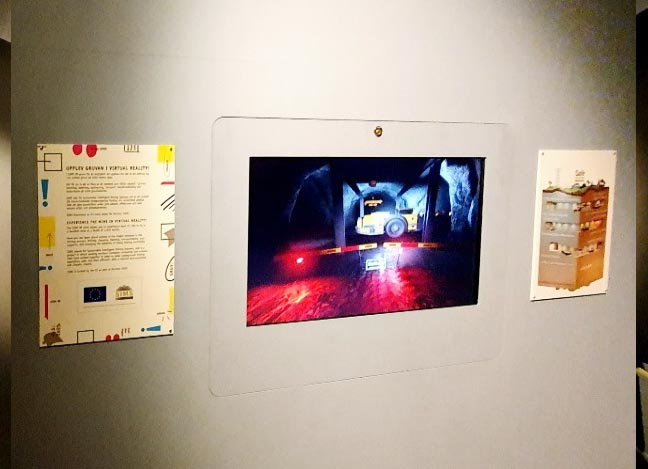 Baksidan av montern vid Tekniska Museet där övriga gäster kan följa vad som sker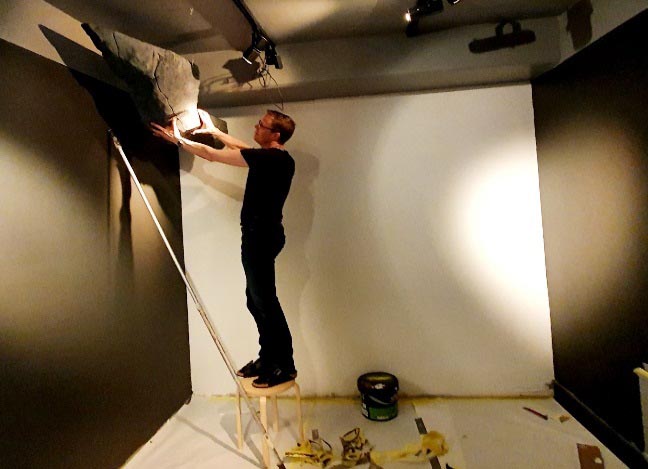 David på Teknikens hus arbetar med att färdigställa deras yta för VR-miljön
Erbjudandet
Med start i maj 2020 påbörjas det SIP STRIM finansierade projektet, "Virtual Reality (VR) som demonstratör och läroplattform av hållbar, modern och innovativ gruvdrift". Projektet leds av LTU och övriga partners är Teknikens Hus, Tekniska Museet, Boliden, LKAB och Epiroc. Inom ramen för detta projekt ges vi möjlighet att demonstrera de olika VR-miljöerna för svenska SC samt om ni så vill dela med oss av våra erfarenheter om hur dessa kan användas på ett bra sätt. Vi kan även ge förslag på vilken hårdvara som lämpar sig väl för att nyttja miljöerna (projektet kan ej bekosta VR-utrustning, skärmar el annan hårdvara). Om man så önskar så kan vi även ge kortare utbildning inom "gruvdrift", anpassad för pedagoger. Vi kan även ge viss teknisk support.
Förslag på utrustning: Midrange to high-end PC. Fungerar att använda sig av Oculus Rift S eller HTC Vive (regular/pro) (Vive har visat sig att för dessa applikationer ha färre buggar och kräva färre uppdateringar så om ni ej än köpt hårdvara så rekommenderar vi att ni införskaffar denna). Man kan även köra upplevelserna direkt på skärm från tangentbordet genom att styra med tangenter eller mus, då givetvis utan VR-upplevelse. För inköp av HTC Vive kan man använda sig av deras Enterprise-kontakt med utökad support (https://enterprise.vive.com/eu/).
Viktigast av allt: De av er som vill får fri tillgång till VR-miljöerna och kan nyttja dem på det sätt ni bäst vill. Motprestationen är att vi under projektets gång hoppas kunna få lite input utifrån era erfarenheter för att längre fram kunna vidareutveckla VR-miljöerna ytterligare. Ni har fortsatt möjlighet att nyttja VR-miljöerna efter projektets slut (april 2021) och kommer ha möjlighet att ta del av ev framtida uppdateringar.

Låter detta intressant? Vänligen kontakta Niclas Dahlström på LTU Business asap enl nedan formulär: